Music Electronics and Recording Equipment Support and Consulting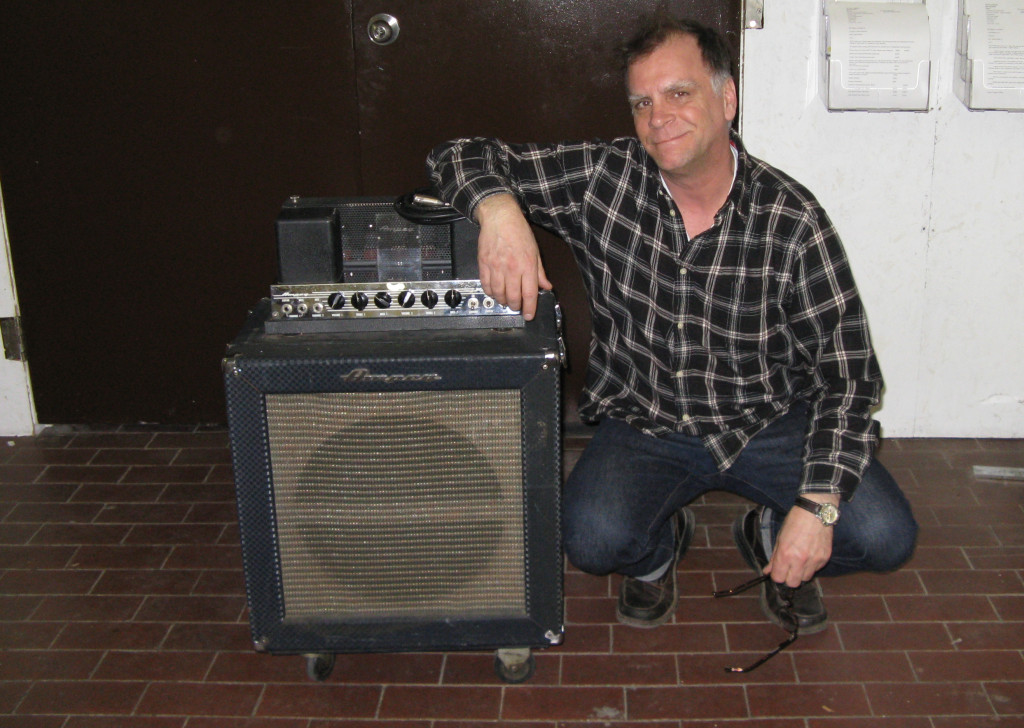 Wonderful Pedal Steel Player and Multi instrumentalist Bob Egan with a great Ampeg B-15-N that we serviced for him.
---
'All of my recording equipment has been restored and tweaked,
or custom built by James at Sound Service Electronics. I wouldn't
let anyone else work on my gear.'
– Eric Warren
Engineer/Producer
---
'The first vintage tube amp I ever bought, I brought into Sound
Service Electronics. I thought it sounded decent already, but when
James was finished with the amp, it opened up a whole new world of
tone and responsiveness. It is still one of the best amps I have
heard. I have not had to do a thing to it since, and it sounds as
good as the day I got it back. That was over 7 years ago.'
– Brandon Lewis
Multi-Instrumentalist/Song Writer
---
'James' technical knowledge and attention to detail always brings
very musical sounding results. It is inspiring to use the equipment
he has serviced and custom built, for recording and music in my
studio.'
– Shawn Davison
Engineer/Producer
---
'I know of more than one person, myself included, who turned around
and immediately sold a popular name brand mic pre amp after using
and being compelled to buy a mic pre amp built by James in a similar
style.'
James seems to know techniques and information that are not commonly
available or used at all anymore. He routinely picks up things others
miss in everything he has worked on for me.'
– Eric Warren
Engineer/Producer
---
'Technical knowledge is very important, but I also need my gear to
sound the absolute best that it can. James' work combines both.
He seems to have an innate knowledge of how something could and
should sound, even when it is not up to par yet.
He has years of experience working on and listening to the top
collectable equipment. That gives him the reference to know what
something really should sound like. It shows in the sound quality
he gets out of everything he does, and that is important to my
creative work.'
– Jim Reinhardt
Artist and Engineer/Producer
---
'When I started working at a high end studio in Montreal working
with some of the most experienced Audio Engineers they told me about
the McCurdy AU300 being the best Mic Pre-Amp ever made! "Good luck
finding one" they said! As luck would have found it I came into 8
of them.
After numerous attempts by several Montreal and Toronto Techs to get
them working, countless months, and hundreds and hundreds of wasted
dollars, it seemed my luck ran out.
Then I heard about James Rowell at Sound Service Electronics in
Kitchener. He diagnosed the primary problems by the following day,
provided an estimate and returned it to me after a quality investment
in time in totally pristine working condition, completely restored to
original spec and appearance and sounding amazing.
3 of the pre-amp modules had to be completely rebuilt, as they had
been poorly modified into distribution amps! I could not tell the
difference physically or in sound to the original restored modules,
such was the attention to component choice and workmanship.'
– Shane Philips
Artist and Engineer/Producer
---
'I enjoy just watching James as he works on my console at my studio.
The care he takes even removing a screw shows the thoroughness and
respect he has for the equipment, and my financial and creative
investment in it.
– Jim Reinhardt
Artist and Engineer/Producer
---
'I found this historical original Universal Audio 175B Limiter online
but when it arrived in my studio, it was apparent it needed some TLC.
Forty plus years of use had taken a toll on this gem. It barely
worked, at all.
James at Sound Service took it in and nurtured my baby back to health.
From re-stuffing old can capacitors, refitting new film capacitors
into original housings, to cleaning fuzz and dust off cloth wire
with a q-tip, selecting N.O.S. and new exact matching replacement
components and carefully selecting tubes for correct operation,
James brought this classic vintage tube compressor back to life.
It has been the center piece of my studio ever since.'
– Shane Philips
Artist and Engineer/Producer
---
'I always disliked feeling brushed off by other technicians, like I
had no control over what was going to happen to my gear. From the
first email response I knew that wasn't the case with Sound Service
Electronics.
Instead of a two sentence email, James laid out all the issues,
improvements, and options with my equipment. He worked with me to get
exactly what I wanted out of my gear.'
– Multiple Clients
Musicians, Engineer/Producers, Collectors
---
'I used to work on Neve pre-amps all the time but when I heard the
restoration job on these Ward Beck M441M Pre-Amps I could not go
back to the Neve's.
James carefully machined the rack to perfect specs.Honestly the job
was better than any other boutique audio rack I have seen and I
assume the precision implemented took a tremendous amount of care
and work.' .
– Shane Philips
Artist and Engineer/Producer
---
'With James I feel like I fell into a river of knowledge about gear
and electronics.'
– Mike K.
Engineer/Producer
---
'It was important to me to have a Mix Room that met my requirements
for sound quality, technical excellence, workflow and comfort. .
James Rowell of Sound Service Electronics came in and designed the
whole room, from electrical and grounding, to acoustics and sound
proofing.
He took meticulous care in working with all the subcontractors to
bring out the best possible results.
Today I can be confident that whatever is coming out my speakers is
what's actually happening in the sound field. James' expertise made
all the difference!'
– Shane Philips
Artist and Engineer/Producer